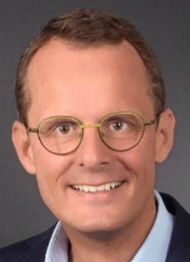 The Frénéhard & Michaux Group, leader in the protection for working at height and the fixing of roofing and guttering items, is proud to announce the appointment of Thierry Dufour as Group Managing Director. This appointment will take effect from 7 September 2023.
Thierry Dufour began his career at Ernst & Young, where he trained as an engineer and obtained an MBA from a management school; he then joined the Division Distribution Bâtiment of the St Gobain group where he held positions as Finance Director of various Point P group entities between 2005 and 2019. He also led several external growth operations, particularly internationally, and headed Jewson, the UK subsidiary of St Gobain Distribution Bâtiment. In 2019, he joined the Alliance Automotive Group as Business Unit head.
Thanks to his experience, notably at Saint Gobain, Thierry Dufour is familiar with the market environment in which Frénéhard & Michaux operates. His successful international experience is a valuable asset for the Group.
As Managing Director, Thierry DUFOUR will be the right-hand man of Bernard Rothan, Chairman of Frénéhard & Michaux. He will be responsible for the management of the TUBESCA-COMABI, ARTUB, TENDO, FMS RINGUE and MAE companies from January 2024.
Thierry Dufour himself expressed his enthusiasm at the prospect of joining the Frénéhard & Michaux Group:
"I am delighted to join the Frénéhard & Michaux Group, a company with a unique positioning based on 'trust at heights'. With its highly committed teams, innovative product offering and strong customer culture, the Group now has a solid base from which to consolidate its position and continue its development. I am therefore determined to put all my energy into serving our customers and our employees, in a spirit of continuity and ensuring the long-term future of our business, both in France and internationally."
This appointment marks an important milestone in the history of Frénéhard & Michaux, which is convinced that his leadership and experience will have a significant impact on future growth.
https://frenehard-michaux.eu/wp-content/uploads/2017/02/Logo_Frenehard-Michaux-2.png
0
0
BERNARD
https://frenehard-michaux.eu/wp-content/uploads/2017/02/Logo_Frenehard-Michaux-2.png
BERNARD
2023-10-03 09:20:12
2023-10-03 09:20:14
Thierry DUFOUR joins the Frénéhard & Michaux Group as Managing Director