A MAJORITY STAKE IN THE COMPANY GAMESYSTEM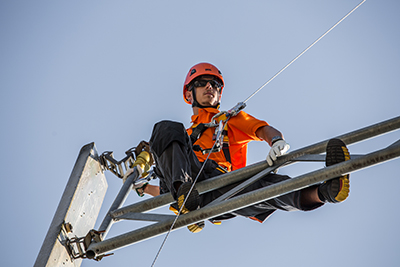 The FRENEHARD & MICHAUX®-Group expands its skills by taking a majority stake in the company GAMESYSTEM 
The industrial group Frénéhard & Michaux, a historical player in roofing and gutter fastening, as well as a major player in access and safety at work at height, is acquiring a majority stake in the company Gamesystem® and is thus pursuing its ambitions for development in the industrial sector, especially in the business of fall arrest systems for working at height safely.
With a turnover of €162 million and 1,000 employees in France, Spain and the Netherlands, the Frénéhard & Michaux Group offers a complete range of products for accessing, moving and working at height, under a common concept named "TRUST AT HEIGHT®". These solutions (ladders, lightweight rolling platforms, scaffolding, guardrails, lifelines, anchors, mobile anchoring systems, harnesses), chosen by professionals in the construction and industrial sectors to combine safety and productivity, are marketed under the TUBESCA-COMABI®, SECURIGARD®, SYAM®, SKYWORKS®, TENDO® and ARTUB® brands.
Founded in 1979 in Montbonnot-Saint-Martin (38), the Gamesystem® company generates a turnover of €12.5 million with 115 employees in France, Spain and Italy. For more than 40 years, it has been developing, manufacturing and installing fall protection solutions for industrial plants and buildings. It is also a recognized training center for safety at work at height.
A win-win operation with many benefits for both companies
« This shareholding strengthens the group's expertise based on the TRUST AT HEIGHT® concept. In addition to the different standard solutions we already offer, GAMESYSTEM® will enable us to complete our range with customized and specific solutions, especially in the industrial sector. Our range of services will also be extended to all the group's customers » Bernard Rothan, Chairman of the Frénéhard & Michaux Group.
« The stake acquisition of Frénéhard & Michaux, family group in accordance with our values, in our company will enable us to continue our development both in France and abroad by strengthening our collective protection solutions. We are proud of this new affiliation and will join the Frénéhard & Michaux group's corporate visual identity. We will also quickly take our new logo. » Arnaud Cuny, Managing director of Gamesystem.
This majority shareholding enables Frénéhard & Michaux to strengthen itself in order to speed up its development and diversification of its activities. This is also fully in line with its current strategy of offering suited solutions that meet the needs of professionals at all levels.
About Frénéhard and Michaux®
Frénéhard & Michaux, a family group of French industrial companies, supports the roofing specialists in their new markets for the building cover and will focus in the future on fall protection solutions and work safety at height. All the companies in the Frénéhard & Michaux group (Frénéhard, Securigard, TUBESCA-COMABI, FMS Ringue, Skyworks, Tendo, Artub, Roy, FM TSN, FM Merlet, Syam and GAMESYSTEM) share the same industrial tradition, a great expertise in aluminium and steel forming, and the same idea of height (scaffolding and ladders, accessories for roofs and roofing, fall protection and guardrails). TRUST AT HEIGHT® is therefore the prerogative of their respective activities and their common denominator. The group currently generates a turnover of €175 million, of which 20% is generated outside France. It consolidates 1,115 people on 10 production sites in France and 10 subsidiaries abroad (Spain, the Netherlands, Germany and Italy).
Frénéhard & Michaux is a large French industrial group. Its goal is to create synergies between all its units in order to generate significant ideas and strengthen the core businesses of each company. It aims at capitalizing on its historical brands to win new markets, expand its presence in the construction and industrial markets and forge a leading European group with industrial roots in France.
https://frenehard-michaux.eu/wp-content/uploads/2020/07/g-stream-ppgm-0047_2__mini.jpg
267
400
Equipe communication FM
https://frenehard-michaux.eu/wp-content/uploads/2017/02/Logo_Frenehard-Michaux-2.png
Equipe communication FM
2020-07-08 16:48:28
2022-05-01 16:50:11
A MAJORITY STAKE IN THE COMPANY GAMESYSTEM