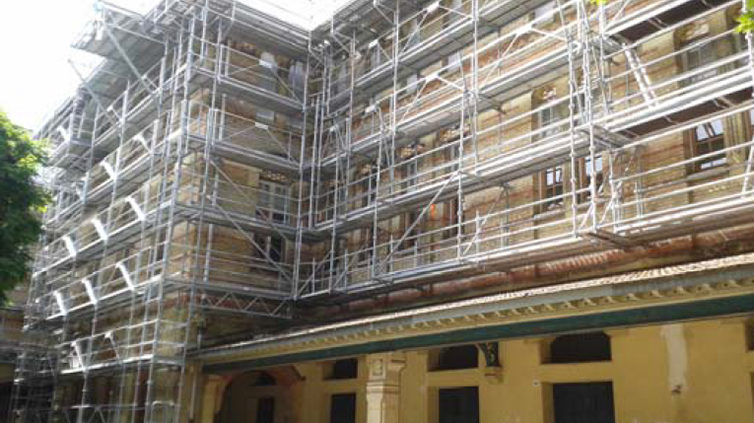 The FRENEHARD & MICHAUX®-Group strengthens its position in Spain by taking a majority stake in the company MA ESTRUCTURAS
The industrial group Frénéhard & Michaux, a major player in access and safety at work at height, takes over the Spanish company MA ESTRUCTURAS, specialised in the rental of scaffolding with related services. With more than 25% of its turnover made in foreign countries and especially in Europe, the group is pursuing its international development ambitions by strengthening its presence and activities in Spain.
With several locations in France, Spain, the Netherlands, Germany and Italy, the Frénéhard & Michaux Group now offers – under the concept named "TRUST AT HEIGHT®" – an exclusive range of products for accessing, moving and working at height. These solutions (ladders, lightweight individual rolling platforms, scaffolding, guardrails, lifelines, anchors, mobile anchoring systems, harnesses) chosen by professionals in the building and industrial sectors, to combine safety and productivity, are marketed under the TUBESCA-COMABI®, SECURIGARD®, SYAM®, SKYWORKS®, TENDO® and ARTUB® brands.
After acquiring a majority stake last June in the company GAMESYSTEM® (Grenoble, France), specialised in solutions against falls from height, the group is pursuing its development through external growth by integrating Spanish company MA ESTRUCTURAS, a recognised scaffolding rental company on its market and offering many related services.
Family business founded in 2010, MA ESTRUCTURAS realizes a turnover of €2,2 million and employs 30 people. Based in Madrid, MA ESTRUCTURAS offers scaffolding rental with assembly services for technical construction sites. The company is mainly active in the Madrid area for the renovation market.
"With this new stake, we are strengthening our presence and expertise in the Spanish renovation market, but also in the emerging construction market. We have had a close relationship with MA ESTRUCTURAS for many years now beacause they use our TENDO solution on different building sites. It is therefore quite natural that we got closer with a company that is recognised in its market and which offers very good quality services that meet our requirements. So we are ensuring the development of our know-how and our value chain in Spain and at the whole group level. "Bernard Rothan, Chairman of the Frénéhard & Michaux Group.
This operation enables Frénéhard & Michaux to diversify its product and service offer in Spain. The group has always led its development by relying on its historic brands to conquer new markets and it aims at forging a leading European group with a strong industrial base.
About Frénéhard and Michaux®
Frénéhard & Michaux, a family group of French industrial companies, supports the roofing specialists in their new markets for the building cover and will focus in the future on fall protection solutions and work safety at height. All the companies in the Frénéhard & Michaux group (Frénéhard, Securigard, TUBESCA-COMABI, FMS Ringue, Skyworks, Tendo, Artub, Roy, FM TSN, FM Merlet, Syam and GAMESYSTEM) share the same industrial tradition, a great expertise in aluminium and steel forming, and the same idea of height (scaffolding and ladders, accessories for roofs and roofing, fall protection and guardrails). TRUST AT HEIGHT® is therefore the prerogative of their respective activities and their common denominator. The group currently generates a turnover of €180 million, of which 25% is generated outside France. It consolidates 1,150 people on 10 production sites in France and 11 subsidiaries abroad (Spain, the Netherlands, Germany and Italy).
Frénéhard & Michaux is a large French industrial group. Its goal is to create synergies between all its units in order to generate significant ideas and strengthen the core businesses of each company. It aims at capitalizing on its historical brands to win new markets, expand its presence in the construction and industrial markets and forge a leading European group with industrial roots in France.
https://frenehard-michaux.eu/wp-content/uploads/2020/09/MA_2.jpg
565
754
Alexia Tiger
https://frenehard-michaux.eu/wp-content/uploads/2017/02/Logo_Frenehard-Michaux-2.png
Alexia Tiger
2020-09-10 14:53:09
2020-09-25 09:50:10
A majority stake in the company MA ESTRUCTURAS